*P.S. This post may contain affiliate links. Read our disclosure policy for more info.
I grew up surrounded by music.  My family can play a multitude of instruments including piano.  I wanted to ensure that my fondness for music was passed down to my children.  I didn't just want them to appreciate music, but also to play music beginning by learning to play the piano.  When I was offered the opportunity to review Easy Piano Basics  from JazzEdge, I jumped at the chance.
My oldest son began piano lessons at home when he was six.  We eventually hired a piano teacher which led to piano recitals.  However, due to the never-ending unexpected military reassignments, those piano lessons were put on hold.  Every time we researched and found a piano teacher in our new location, it was time for new orders!  Now that we have relocated to Tennessee, we haven't found the time to locate a new piano teacher.  My younger boys especially are ready to get back into lessons and learning to play.  Having said that, this review came at the perfect time!
After the excitement of reviewing this resource settled, I began to find it strange that these piano lessons were taught online.  Piano lessons online?  Isn't that a bit strange?  Well yes and no.  LOL!  Anything new and different is strange at first, right?  Yet, we learned to embrace the microwave oven, the smart devices, portable computers and even the square hamburgers from a certain fast food restaurant.  I believe this is much the same.  Although I did not have online piano lessons as a child (forget having a computer, HA!), laptop computers and smart devices are everywhere.  Online training and education is as common as bread and butter.  With 3 kids that are super busy, I honestly couldn't figure out when I could run to town one more time a week for a piano lesson.
So what exactly is Easy Piano Basics?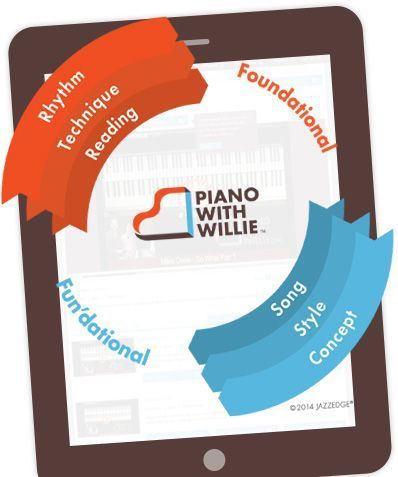 Easy Piano
is an online piano program from
JazzEdge
.  The company
JazzEdge
was founded by Berkley College of Music Graduate Willie Myette.  There are 32 lessons that can be viewed online.   Each one of the lessons will teach you basic fundamentals to playing the piano!  In order to complete the lessons, you will need either a keyboard or a piano.  You will also need access to the internet.
I can tell you that piano lessons aren't cheap (unless you are currently getting piano lessons for free).  I can also tell you that piano lessons will cost more than $59.95 a year (one lesson per week).  However, with Easy Piano Basics, there is a ONE time low-cost of $59.95!  That is a $10 savings from the retail price.  Again, a one (1) time cost and not a subscription!  It is nice to have a one time fee, move on and not have to worry about a monthly or yearly subscription.  The LOW cost includes everything you need to get started: videos, lessons, and sheet music (which is 46 pages and comes as a PDF).
Here are some of the lessons covered:
The Notes of the Piano
Low & High Notes
The Musical Alphabet
Finger Numbers
How to Sit at the Piano
The Grab Technique
Five Finger Scale
G Clef Guideposts
Steps & Skips
Half & Whole Steps
Higher & Lower on Staff
The F Clef
Much more!!!!
Each lesson builds up to the next lesson.  Skipping around to different lessons can confuse a new learner.  Also, an added benefit to online lessons is the freedom to stop and start over without worrying about the hourly fee your piano teacher is charging.  While I have nothing against traditional lessons, and do like them as well, you cannot rewind those lessons as you practice or try to get a concept down.
We used this program with my two youngest boys.  Although both of them have had piano lessons in the past, but because of the numerous military moves, it was nice to get a fresh start.  The lessons were clearly laid out and easy to use.  My younger boys, ages 8 and 6, had no problems with these lessons.  It is recommended that children practice small amounts daily.  We add in our music lessons to each home school day and my boys look forward to each lesson.  Each lesson seems to be the perfect length to keep my their interest, allow them to learn, but doesn't overwhelm them.  Now my goal is to try to get my husband to use this program! 🙂
Give it a try!  You will not be sorry!  Connect with them on social media as well below:
Facebook: https://www.facebook.com/PianoWithWillie
Twitter: https://twitter.com/PianoWithWillie
Pinterest: https://www.pinterest.com/jazzedge
YouTube: https://www.youtube.com/user/JazzEDge
Vimeo: https://vimeo.com/jazzedge
In Christ,
Laura